Aluminium Doors Bournemouth
At Aluminium Windows Ltd, we offer a vast range of aluminium doors for your home improvement needs. Transform the look of your Bournemouth home with aluminium doors that are high performance as well as visually pleasing.
Aluminium doors offer a stunning finish for your Bournemouth home, featuring slim sight lines and sophisticated styles. Your home will have added kerb appeal with the addition of unique aluminium doors that provide unobstructed views and increased natural sunlight.
Aluminium doors can enhance the aesthetic of your Bournemouth home with a touch of luxury. The way in which our profiles are built means you are left with a robust and strong door profile that is unrivalled anywhere else on the current market.
Innovative and Advanced Technology for our Stunning Aluminium Doors
Aluminium is a lightweight and incredibly strong material that results in flexible and versatile design styles that make our aluminium doors so incredibly popular. Featuring innovative and advanced technology and manufacturing techniques, our aluminium doors are durable, long-lasting and hard wearing.
Our aluminium doors come from the industry leading manufacturers, Smart Architectural Aluminium. Known of their state of the art engineering, our aluminium doors combine functionality with aesthetic and deliver on all fronts. If you want aluminium doors that look good and perform well for your Bournemouth home, you have come to the right place.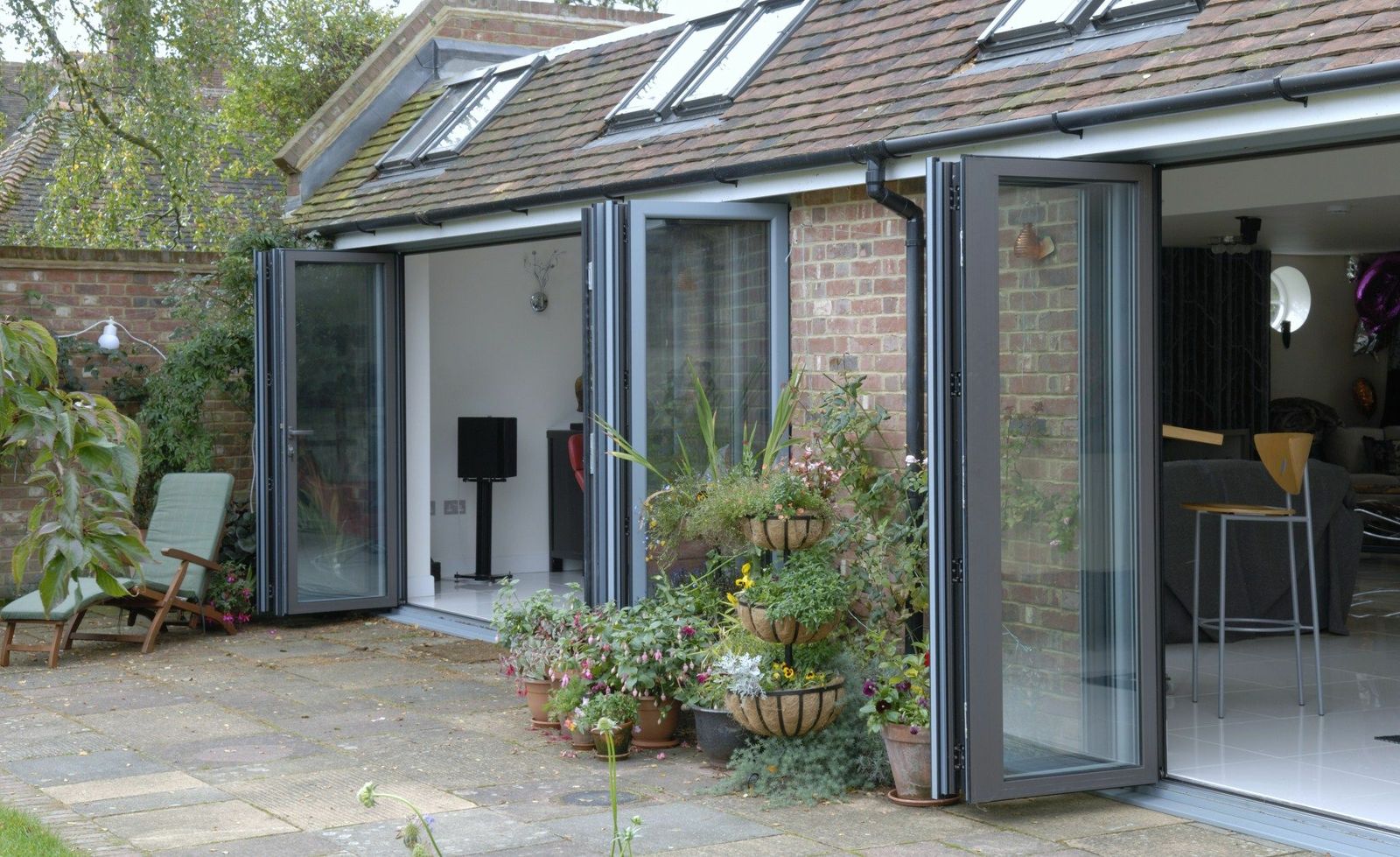 Increased Security and Safety with Robust Aluminium Doors
Because aluminium is a strong material on its own, when used to create aluminium door profiles it is a winning combination. Making it much harder for intruders to gain entrance and being able to withstand even the most adverse weather conditions, they make the perfect choice for homeowners in Bournemouth that are looking for a secure solution.
Our aluminium doors are fitted with advanced locking systems from FUHR, providing exceptional levels of protection for your family and Bournemouth property.
Increased Thermal Efficiency and Insulation
Our aluminium doors offer increased thermal efficiency for your home that provides a range of benefits. From keeping your energy costs down to reduce costs, to reducing your carbon emissions and helping contribute to a greener environment.
Our aluminium doors feature an innovative design that includes thermally broken profiles which are designed to ensure minimal cold transfer. This means that your home will remain warm, dry and comfortable all year round no matter the weather.
Our aluminium doors are assessed and put through rigorous testing to make sure that they pass the standards set by Building Regulations. Our aluminium doors have exceeded these standards making them an exceptional choice for your Bournemouth home.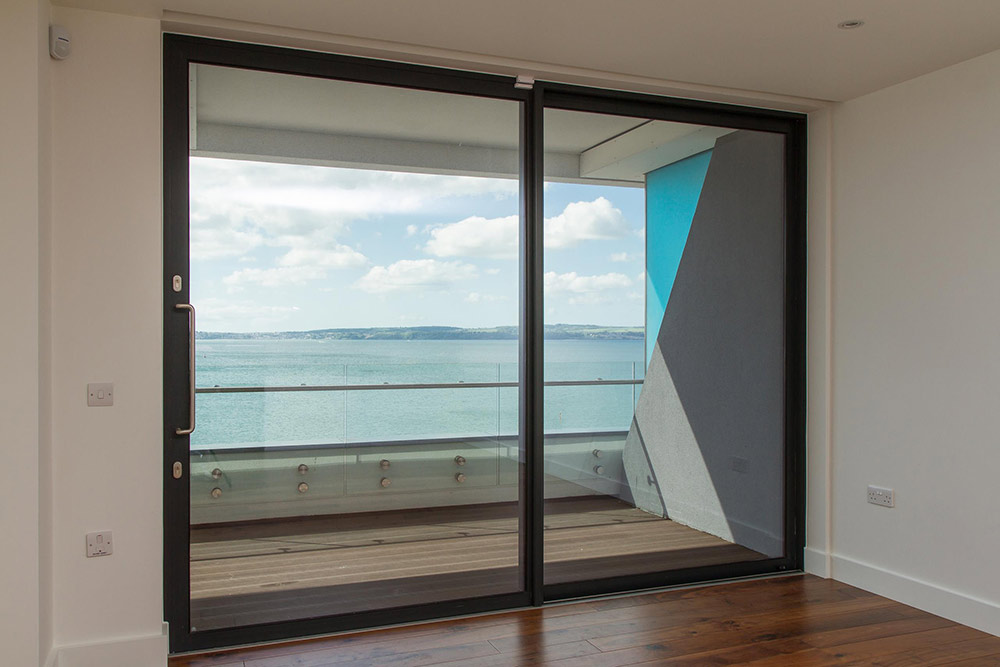 Unique Aluminium Doors that are Bespoke to your Bournemouth Home
Our aluminium doors are tailor made to create the perfect fit for your Bournemouth home. With a range of styles and designs to choose from you are able to select an aesthetic that best suits your property as well as your personal taste.
We have a large wealth of knowledge and experience when it comes to aluminium doors and the home improvement industry. This means that you will receive an excellent service, no matter how big or small the project is.
A Choice of Finishes and Glazing Options for our Aluminium Doors
Due to the versatile nature of our aluminium doors, you can completely customise how your door looks with a number of options to choose from. Pick from a range of colour finishes that promise a long-lasting finish that has a desirable effect.
Whether you're looking for neutral colours to blend in with your Bournemouth property surroundings or you want something that will stand out and make a statement, there is a range of stunning pastels or brights for you to select from.
Professional and Expert Aluminium Doors Installed in Bournemouth
We have a highly skilled team that can make sure your aluminium doors are installed perfectly. Throughout the process we can answer any questions that you may have with regards to the project and keep you in the loop every step of the way.
We aim to cause minimal disruption to your daily life and we always leave your home as clean and tidy as we found it. We always look at the small details to make sure that every installation is done professionally and expertly so that you can benefit from all of the features that aluminium doors provide.
Why Choose Aluminium Doors?
Aluminium doors outclass timber and uPVC in terms of performance, functionality and aesthetic. If you're looking for a durable, long-lasting, strong, robust, secure and visually pleasing door solution then aluminium doors are the best option for your Bournemouth home.
We only use premium quality materials so that you can expect high quality at affordable prices.
A Low Maintenance Aluminium Door Solution
As well as being available in a large array of shades and hues, our aluminium doors are also incredibly low maintenance. We apply a highly durable coating to our doors to make sure they are colour-lasting. You won't have to spend time or money on the upkeep of your doors as they won't flake, peal, warp or discolour over time.
Prices of Aluminium Doors in Bournemouth
We provide competitive and cost-effective pricing for our aluminium doors in Bournemouth. We understand that you need the option to create customised aluminium doors that suit your home and will provide a long list of features and benefits. You can use our online calculator to get a guideline price for your aluminium door needs, or you can get in touch to ask any questions that you may have.
Our friendly team are always happy to help with any queries that you may have. Choose Aluminium Windows Limited Bournemouth for your aluminium doors.