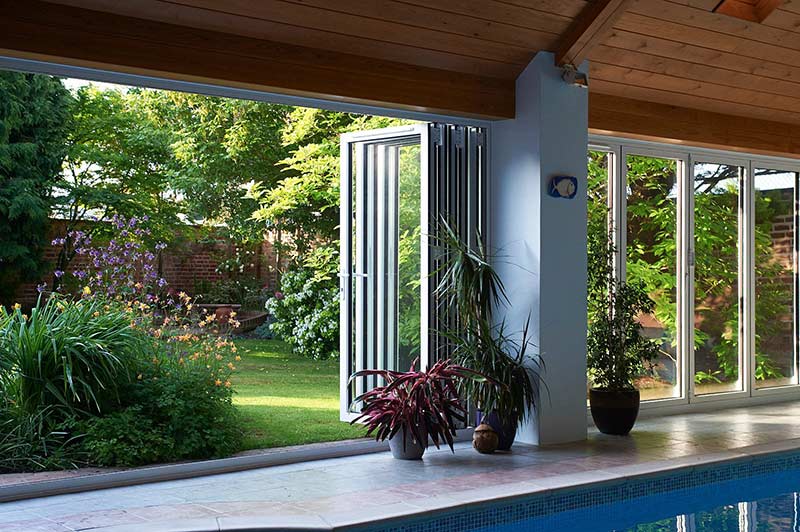 High Quality Aluminium Doors Bournemouth
If you're looking for the perfect set of aluminium doors for your Bournemouth home, Aluminium Windows Ltd has the door for you. These doors are proven to be highly secure, thermally efficient, durable and low-maintenance, and come in a huge range of styles to suit any home. Cost-effective and high-quality, these doors will be a perfect addition to your property.
With a beautiful range of impressive quality bi-fold, French, patio and front doors, we're confident that we offer the perfect fit for your home. Our fitting process is time efficient and fuss-free, and our friendly and helpful team is here to assist you through every step of the buying and fitting process.
We have also gathered together some of the key points that make our aluminium doors tick in this clever, little guide. 
High Quality Aluminium Doors Bournemouth
These aluminium doors use Smart Architectural Aluminium's unparalleled profile. This profile promises the highest possible standards of security, thermal efficiency and durability to ensure that your Bournemouth home is getting the very best. Using the highest quality aluminium, we ensure that your home has a beautiful aesthetic to meet your preferences, which will last for decades to come.
The Smart range has a variety of beautiful profiles, which shine in all areas of design and meet our high performance standards. Whether it's a contemporary property or something more traditional, we are certain that you will find the perfect aluminium doors to cater to your Bournemouth home. Doors are built to your specifications, so we will have the right door for cosy cottage and sprawling mansion alike.
Secure Aluminium Doors Bournemouth
Our aluminium doors are an inherently robust addition to your home. Despite their sleek outward appearance, these doors offer extremely high security for your Bournemouth property. You can sit back and enjoy the peace of mind that comes with knowing the possessions of your home are completely safe and secure.
We use high quality Yale locking systems on each of our aluminium doors, to push your security levels even further. Multi-point locking systems embedded are extremely high performance and specialise in keeping intruders out of your home. Relax safe in the knowledge that your home's security is in our capable hands.
Thermally Efficient Aluminium Doors Bournemouth
Our aluminium doors are an inherently energy efficient and heat retentive option for your home. We use a Smart Architectural Aluminium profile for our products which inhabits internal insulating air pockets to trap warm air and keep cold air out. Are you selling your Bournemouth property? These energy efficient aluminium doors will make your home more tempting for the buyer as they won't have to do such thorough renovations if they make the purchase.
A thermally efficient set of doors will save you money on your heating bills, as 30% of heat is lost through energy inefficient windows and doors. As our doors are such a durable investment, you can be sure you'll make a saving year-after-year. Additionally, aluminium is a very widely recycled material, meaning that our doors meet the highest standards of environmental sustainability and decrease your carbon footprint.
Stylish Aluminium Doors Bournemouth
Our aluminium doors come in a huge range of beautifully vibrant colours and finishes to suit any home. You can opt for one colour, or different colours inside and outside. Alternatively, we can colour match your existing doors, so you can enjoy the security of our aluminium doors, without sacrificing any of the aesthetic sensibilities of your home.
Smart's aluminium is powder coated to ensure a scratch resistant finish that will retain its sheen for up to 25 years. Highly durable, all your doors need is a wipe down once every while to retain their lustre. These aluminium doors will be a vibrant and fuss-free addition to your Bournemouth home for years to come. Just sit back, relax and enjoy your characteristically stylish doors. These will become a prize possession of your property for buyers in Bournemouth and make a wonderful investment for years to come.
Aluminium Doors Bournemouth Prices
Our aluminium doors come at highly competitive prices. Check out our online quoting engine for a free and instant quote.
If you require any further information about any of our products or prices, please contact us for assistance. Our friendly, customer-oriented team will be happy to answer any queries you may have.