Aluminium Bi-Fold Doors in Bournemouth
Aluminium bi-fold doors are fast becoming the must-have home improvements in Bournemouth. They offer a whole new way to experience your home and enjoy the outdoors. Whether your property has a balcony overlooking the sea, a sunlit patio or a stunning garden area, bi-fold doors will help you enjoy your living space even more.
You will benefit from extensive views through a spectacular wall of glass and a seamless connection between your home and outdoor living space. Bi-folding doors will transform your home, creating a stunning space where you can relax and socialise in style.
Aluminium bi-fold doors are the ideal choice for Bournemouth homes, and when you choose Aluminium Windows Ltd as your double glazing supplier or installer, you will benefit from ultimate quality.
Precision Engineered
Our aluminium bi-fold doors are precision engineered for quality and performance. They are manufactured by our own team using the renowned Smarts Architectural Aluminium profile, and benefit from the latest innovations in the industry. Whether you are an architect, builder or commercial property manager looking for a stunning addition to your building, or you are a homeowner wanting to create a new entrance with your home improvements, our quality double glazed doors are ideal.

Incredible Efficiency
The Smarts aluminium bi-fold door is specifically designed to offer excellent energy efficiency. It features a polyamide thermal break which acts as a barrier, blocking cold air from entering the property while ensuring heat is retained. This is coupled with quality glazing to achieve outstanding thermal performance, which will make heating last longer, and so save on the energy costs of your property. Energy efficiency is essential to achieving appealing EPC ratings, and our high performance sliding doors offer superb thermal qualities.
Impressive Security
One of the key qualities of aluminium bi-fold doors is that they offer incredible protection for your Bournemouth home. Aluminium is naturally strong, almost indestructible in fact, making them able to withstand even the most determined potential intruders. This inherent security is backed up by FUHR multipoint locking systems which are embedded in special Euro Grooves. This results in unrivalled security from these beautiful doors.
Superb Style
With aluminium bi-fold doors from Aluminium Windows Ltd, you will be able to create the perfect match for your property. Our bi-folding doors are completely tailored to your specifications, enabling you to choose the number of panels, the configuration and the colour finish. We offer the full range of RAL colours to our Bournemouth customers, allowing you to create unique and stylish doors for your home. This means you can enjoy a look that is individual to you, blends in with your home and complements your personality. You can even opt for dual colours, giving you different shades on the inside and outside frames to enhance your décor.

Expert Craftsmanship
Our aluminium bi-fold doors in Bournemouth are expertly crafted at our local manufacturing plant. This means that when you choose us for your aluminium double glazing, you will benefit from true craftsmanship and attention to detail. It also helps to keep costs low, as we keep everything in house.
Superior Installations
At Aluminium Windows Ltd, we are experts in all areas of double glazing, ensuring that if you choose us for your installation, you will benefit from quality work. We are fully accredited and we offer an insurance backed guarantee on our work. You can count on a smooth and stress-free double glazing installation with us.
Creating Perfection
Our surveyor will discuss your home improvements plans with you, and they will help you achieve the look, style and functionality that you want from your new bi-folding doors. They will listen to your requirements and preferences, before designing a bespoke aluminium bi-fold door to suit you and your Bournemouth home.
Sustainable Products
Aluminium bi-fold doors are a great choice for creating an eco-friendly home. Aluminium is completely sustainable, and can be recycled countless times, never losing its style or inherent qualities. In addition to this, our aluminium bi-fold doors will provide many years of excellence, with little maintenance, which limits their environmental impact.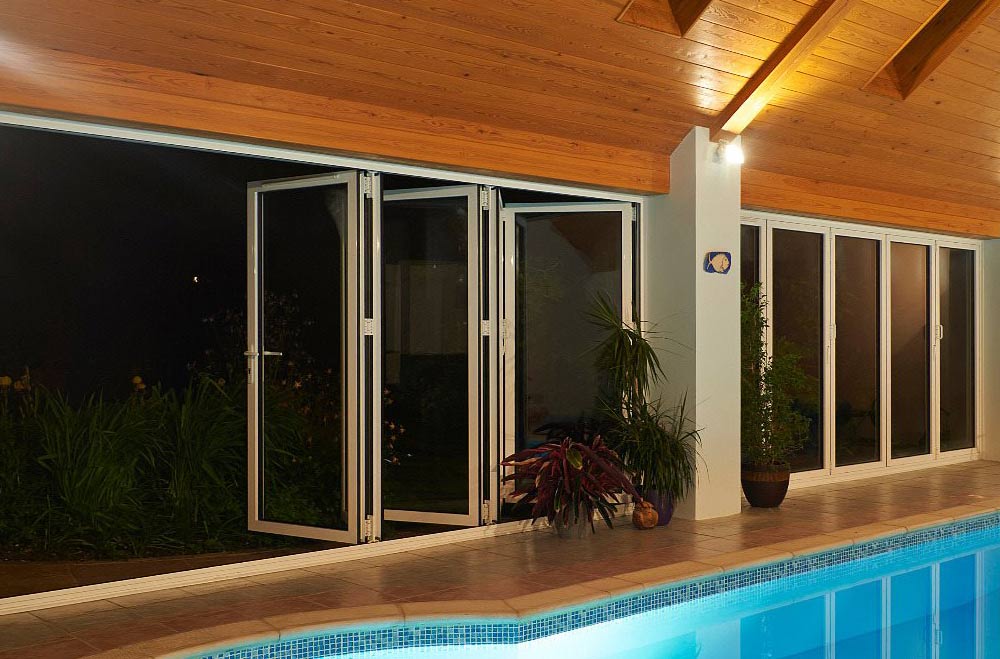 Aluminium Bi-Fold Doors Prices in Bournemouth
As we manufacture these stunning doors ourselves, it means we can offer more affordable aluminium bi-fold doors prices in Bournemouth.
You can enhance your home with these stunning entrances for less than you might think.
Visit our online design tool to get a tailored cost, or contact us to discuss your requirements in further detail. Our friendly team are here to help you find the perfect aluminium bi-fold doors in Bournemouth.