Aluminium Bi-Fold Doors, Ferndown
At Aluminium Windows, we are aluminium specialists and we fabricate our products ourselves. This means that when you choose aluminium bi-fold doors from us for your Ferndown property, you will benefit from exceptional quality and an outstanding finish. Our bi-fold doors are simply stunning and are crafted by our expert team to our own exacting measurements. You see, with Aluminium Windows, we cover every aspect of your aluminium doors installation from start to finish.
Aluminium bi-fold doors are the very best choice for your Ferndown home improvements, offering incredible quality, performance and durability. They are a cost effective yet luxury solution for your new sliding doors. Our expert team will be on hand every step of the way, ensuring you receive superior customer service and a smooth and stress-free installation experience. Open them and you bring the summer garden and its sounds and scents into the house, giving a greater sense of space and light.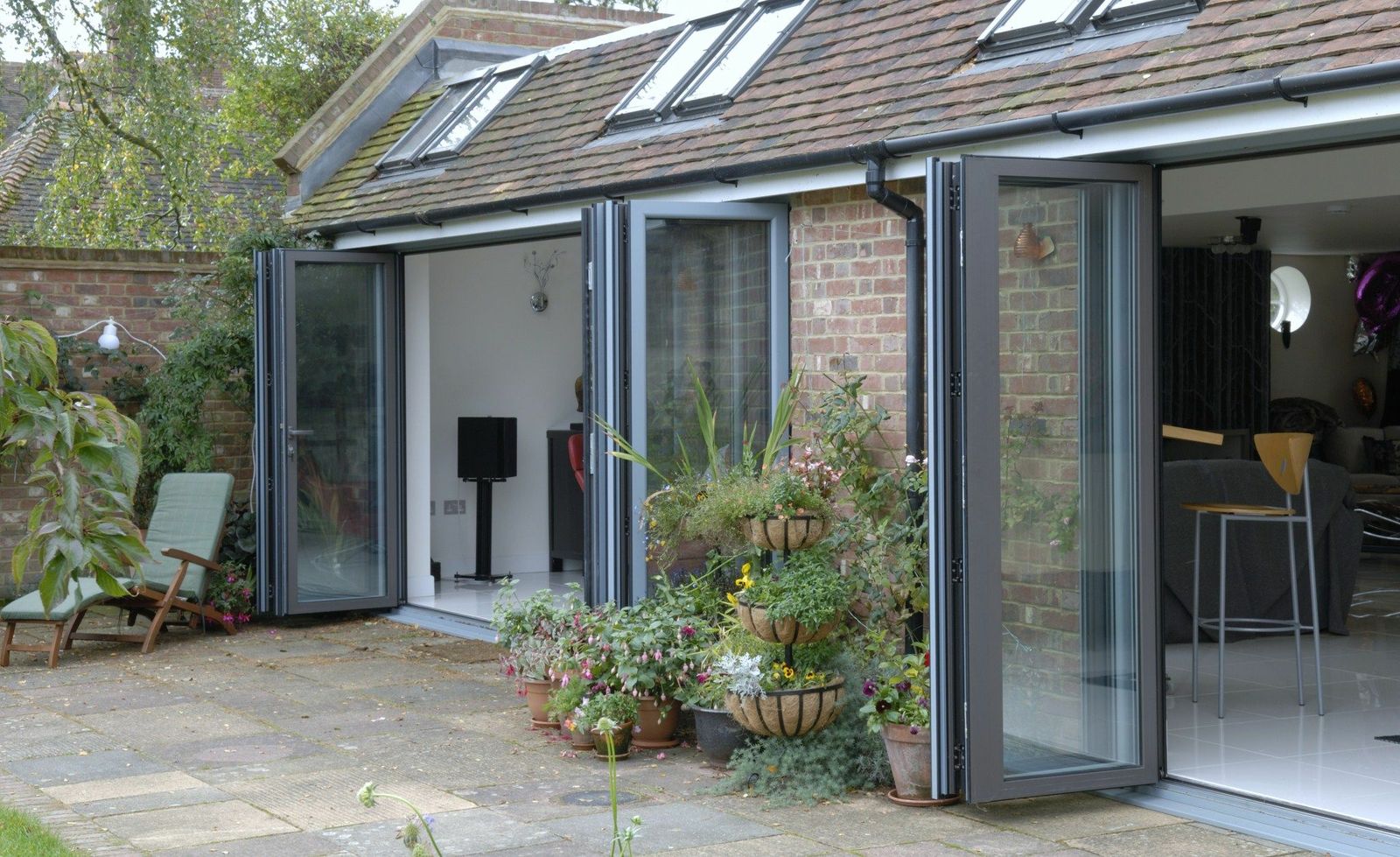 Eco-Friendly
Aluminium is the most impressive product for eco-friendly home improvements. Endlessly recyclable, it never loses its inherent qualities of beauty and strength, making it fully sustainable. It will last for many years to come too, as aluminium is hard wearing and can withstand even the worst of the British weather without ever becoming brittle, warped or rotten. If you are looking for an environmentally friendly option for your Ferndown bi-fold doors, then our aluminium sliding doors are the perfect choice.
Thermal Performance
Our aluminium bi-fold doors are fabricated from the cutting edge Smarts Architectural Aluminium profile, which ensures ultimate performance. These innovative double glazed doors feature a thermally broken profile to achieve incredible thermal performance. Your home will be warmer and more comfortable throughout the cold winter days with these doors, and you could even save on your energy costs through needing to use less heating to stay warm with these superb doors in place.
Ultimate Security
Aluminium is an incredibly strong material, which helps to make our bi-fold doors almost indestructible. They can withstand intense physical attacks with ease, and when coupled with our unrivalled FUHR multipoint locking mechanisms, these doors become impenetrable. They will ensure your home and family are thoroughly protected against even the most determined potential intruders, offering completely unmatchable security within the industry.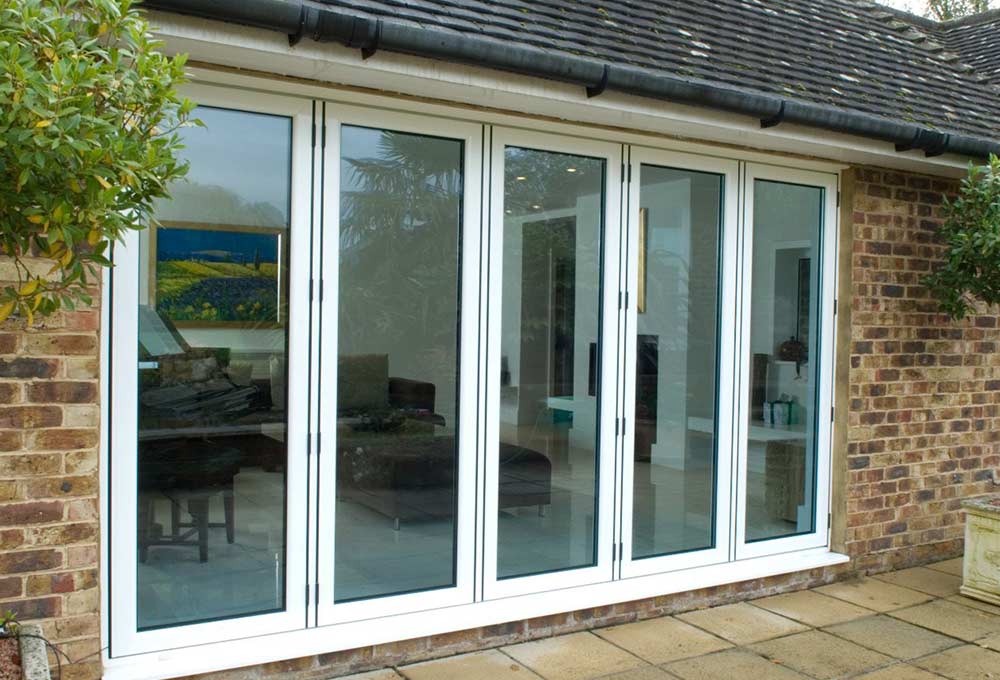 Perfect Opening System
Our aluminium bi-fold doors have a superb opening system which has been precision engineered to offer smooth, long term operation. These stunning doors will simply glide open effortlessly with just a gentle push. They will create a stunning wall of glass which can be slid back to within a few inches of the walls, blending your home and garden into one living space. We also offer a variety of configuration options, so that you can create an opening which is not only visually spectacular, but also incredibly functional too.
Tailored Finish
The key benefit of choosing aluminium bi-fold doors is that you can create a truly unique entrance to your Ferndown property. These stylish doors have an ultra slim profile which maximises the viewing area, and can also be tailored to your individual tastes. There are countless colour finishes to choose from, so if you want a bright, bold entrance, a gentle pastel shade, or a rich, earthy tone, you can choose the perfect match from our extensive range of colour finishes.
Easy Accessibility
We love that aluminium bi-fold doors really are suitable for nearly every home in Ferndown. They come in a wide range of sizes, and with the configuration options, they are truly functional. However, in addition to this, our aluminium bi-fold doors also come with a range of threshold choices, including an ultra low option which is perfect for wheelchair users, as it is robust, durable and creates a seamless entry point to the outdoors.
Expert Installation
We are experts in aluminium bi-fold doors installation, so this means that we can help you achieve the luxury these doors offer in almost any situation. Whether you are looking for a completely new installation with all the intricacies that involves, or a replacement for French doors or a patio door, we are more than able to meet your needs and provide a high performance, high quality installation.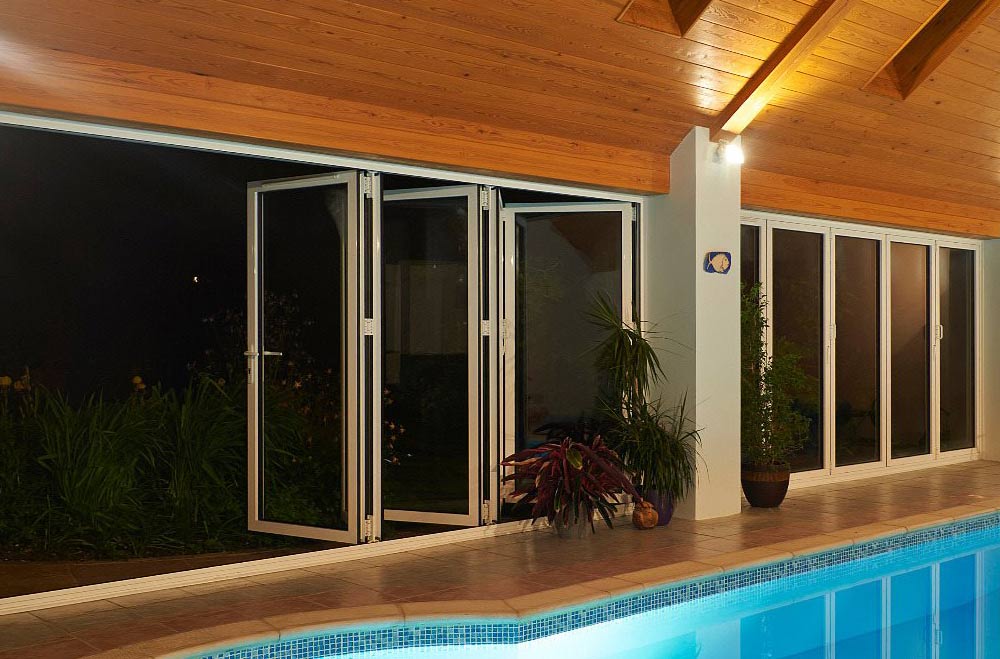 Aluminium Bi-Fold Doors Prices in Ferndown
Our aluminium bi-fold doors prices in Ferndown are exceptional, because we cut out the middle man and manufacture our doors ourselves. You can get an instant online quote or contact us for more information and help with choosing aluminium bi-folding doors for your Ferndown home improvements.